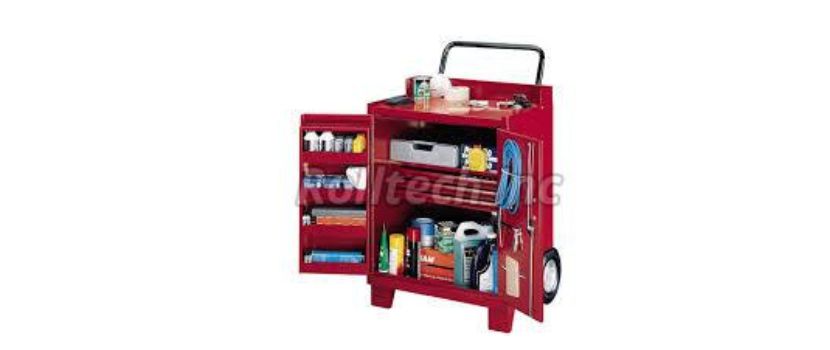 A tool storage trolley is a cart-like device that helps classify, carry, and safeguard various tools. Tool trolleys are mainly useful for professional craftsmen, such as builders, carpenters, and machinists, who have a huge amount of equipment to organize and tote around. These Tool trolleys can also be used by hobbyists.
In essence, a tool storage trolley supplied by the tool storage trolley suppliers is a superior version of a tool case, tool chest, or toolbox. Tool cases, chests, and boxes generally have a box shape with a base and a hinged cover. Normally, they also have a handle on top as well as latches that joins the cover to the base. Usually, they can be carried by hand from one location to another.
General features of the tool storage trolley


1. Drawers with locks to keep tools safe
Each tool trolley is armed with drawers and sections to hold tools and spare parts. Though, not all tool trolleys are armed with locks that let you keep your tools safe so no one can use them without you meaningfully. Also, these are equipped with locks that, with a simple key, let you close all drawers and compartments, safeguarding your tools with a single motion.
2. Wheels to follow you everywhere
A proper tool trolley must also have wheels to follow you everywhere and continuously be at your side. From the workbench to the storage room, tool trolley wheels let you have all you need to work at your fingertips, saving you time by not having to explore everywhere for what you need.
3. Handles for better manageability
In addition to wheels, tool trolleys need durable handles for easy movement. You can simply drag your tool trolley with you by the handles, saving time without fatigue.
Uses of the tool storage trolley
Many tool trolleys function as moveable tool shelving and workplaces, allowing craftsmen to simply access a large variety of different tools. Most trolleys have a series of drawers designed to offer owners an easy method for categorization tools. A tool trolley may also comprise a cabinet or two that allows for the storage of larger items, such as buckets, paint cans, or power-operated woodwork equipment. A few tool trolleys are even electricity power-operated.
Some craftsmen use tool belts or aprons in combination with, or as a substitute for, a tool trolley or toolbox. These devices can be tied around the waist and allow for easy convenience, although they can only hold a limited amount of tools. A bucket manager is another tool storage device. Made from a cloth bag wrapped inside a bucket, these gadgets work like a small toolbox. They usually have a dozen or more pockets in which tools can be placed for easy access and watch.
Tool sets can be a replacement for a tool trolley. They are lightweight and usually come in plastic cases. The tools generally snap into a specific area of the case, making them easy to organize. Usually, they hold only a few tools. As a result, expert craftsmen usually also need a tool trolley or toolbox when working on a big project.
Qualities of a tool storage trolley suppliers
Providing the Best Quality Product
Customer Satisfaction
Delivery on Time
Competitive Price