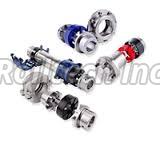 Power transmission couplings play a huge role in mechanical systems. They connect two shafts and transfer power from one to another while reducing shock and misalignment. Continue reading to learn about the various types of couplings available with coupling distributors in India.
What is Power Transmission Coupling?
Power transmission couplings are extensively employed to adjust damping and stiffness in torsion as well as in other directions (misalignment correction).
In most situations, the main goal is to transfer torque and power from a driving shaft to a driven shaft. It joins two spinning pieces of equipment together and allows for some end movement, misalignment, or both.
Shaft couplings are useful for mitigating vibrations and shocks that transfer from the driving to the driven elements. By using this feature, the setup's service life is extended and component wear is decreased.
Types of Couplings
Coupling distributors in India provide various types of power transmission coupling according to the use and size.
Quick Flex Couplings
Split covers and strong construction characterise Quick Flex couplings. They are built to handle more torque and faster speeds.
Its construction reduces shock and torsional vibration, extending the life of the coupling and adjacent parts. Along with being sturdy and resistant to corrosion, they are also simple to install. Inserts made of Quick Flex save replacement costs and downtime.
Gear Coupling
One kind of flexible coupling is a gear coupling. They are primarily employed in situations requiring excessive speed and great torque transfer for large machines. This particular kind of coupling is intended to transfer torque between two shafts of non-collinear equipment.
Compared to other types of couplings, gear couplings with a seal require less downtime during installation and are easier to install. These connectors have relatively little upfront cost.
Grid Coupling
Its high tensile strength is essential for grid connections. In the coupling assembly, thin alloy-steel member threads between toothed hubs. The metal element typically permits a maximum of 1/2° of angular misalignment between shafts. The coupling has a high power density but is not particularly good at handling parallel misalignment. It is therefore appropriate for applications involving medium- and heavy-duty drives.
Omega Coupling
Omega close-coupled elastomeric connection is made up of reversible hubs and a special split-in-half flex element. They save a great deal of money overall by cutting assembly time and inventory.
They use polyurethane substance that has been carefully designed to provide maximum strength, durability, and fatigue resistance. Equipment life is increased by its ability to absorb shock loads and vibration.


Disc Coupling

A disc coupling is a type of flexible shaft coupling that transfers torque tangentially on a shared bolt circle from a driving to a driven bolt. Thin stainless steel discs arranged in a pack serve as a means of transmitting torque between the bolts.
deforms in the space between the bolts gives these couplings their flexibility. They are ideal for high-performance motion control applications.
Conclusion
Power may be transferred between two shaft connections via a coupling. The connection can be firm or loose, based on the needed torque and alignment precision. This mechanical component joins two rotating shafts. The objective is power transmission. It is used by motors, pumps, generators, and compressors.