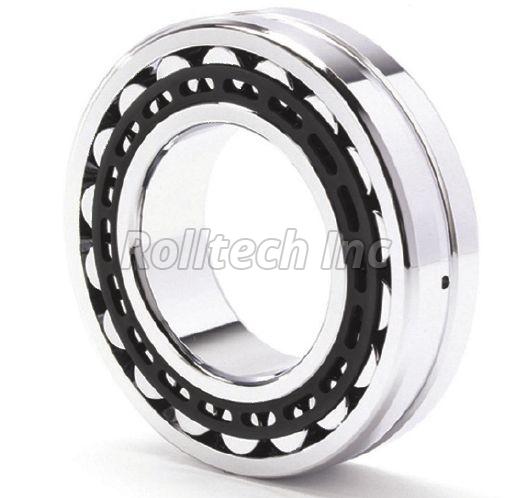 Spherical Roller Bearing is a suitable option when we need an instant application for shock-resistant things. These bearings have other significant qualities too. These bearings can control huge loads because of the virtue of rings' alignment.
For their curved ring, spherical rings can withstand shocks and it is also helpful for their radial and high axial load carrying capabilities. Even with odd working conditions, it provides precise results.

Design:
It consists of two roller rows separated by a rib or cage and it remains unsealed or sealed depending on specific application and model, dual raceways, external raceways to support the rotation of the shaft.
Amazingly the alignment and quality of raceways, rings, and cages improve the performance efficiency with great product quality.
Asymmetrical rollers are good for quality precision and performance while the symmetrical roller is better for load distribution and less vibration. All these carry their longer durability.

Material:
Spherical Roller Bearing Distributor distributes several materials as per working environment and application. Chrome Steel is best known for its durability while polyamide, sheet steel, and brass show their brief usage in small applications.
The most important thing for the spherical bearing is the bearings in the cage in perfect slots. The cage is produced with brass or pressed steel as we need temperature resistance property with strength.
All these bearings are sealed to be safe from contamination from liquid, dirt, and debris. These bearings do not expect any lubrication if they are not turned on to their half the rated speed.

Applications:
Spherical bearings are the main part of many machines like turbines, gearboxes, construction equipment, mechanical fans, mining, and drilling equipment. Roller bearings come in multiple dimensions and sizes, but these can be customized with standard specifications.

Models:
Usually, Spherical Roller Bearing Distributor sells many types of spherical bearings depending on their physical structure, design, specifications, etc.

Single Row Bearings:
These are termed as Barrel Bearings as it looks like a water barrel and it is mainly used for lower radial loads. Other than single row and loading capacity, it is very similar to their parent counterpart. It also provides no compromise in durability and performance.

Double Row Bearings:
As you can understand that these kinds of bearings are used for huge radial load operations and it makes them an essential choice for heavy-duty applications. The design is different from single-row bearings, but these come with central flanges to optimize the overall efficiency of the machines.
Sealed bearings are also widely available in our market as it is designed with reduced use of lubrication, resisting contamination, and improvement in production. In addition, we can see accommodation in handling huge loads in both directions. You may also notice prong or window-type cages make these bearings robust.
These products are formed under the dedication and huge labour of mechanical engineering and it has set the industrial standards to the next level. But before purchasing any product, you must opt for the authorized distributor to make sense in your project.

You will get all kinds of support and guidance from the experts.